Contract Manufacturing
Your large scale CNC contract manufacturer
We can be your outsourcing partner for single or small batch production of large diameter steel parts. From turning, milling, grinding, surface treatment to metrological services. For 150 years, RENK has been an expert in the production of high-quality components with diameters from 0.5 to 4 meters and parts up to 20 tons.
From hardening to CNC machining and final testing
Our expertise and facilities provide a broad range of contract manufacturing and consulting services.
Hardening / Surface treatment
Mechanical Manufacturing
Gear Production
Metrology Service
Validation on our test benches
01 Hardening / Surface treatment
Hardening and surface treatment for large scale components
We have many years of in-depth experience in the heat treatment of heavy-duty gear components that are subjected to high continuous loads. Such components in particular depend on perfect, flawless material properties.
On average, 3000-4000 tons of steel pass through the Augsburg furnaces per year for various industries. Our range of services includes:
Case hardening
Annealing
Hardening
Nitriding and nitrocarburizing
Quenching and tempering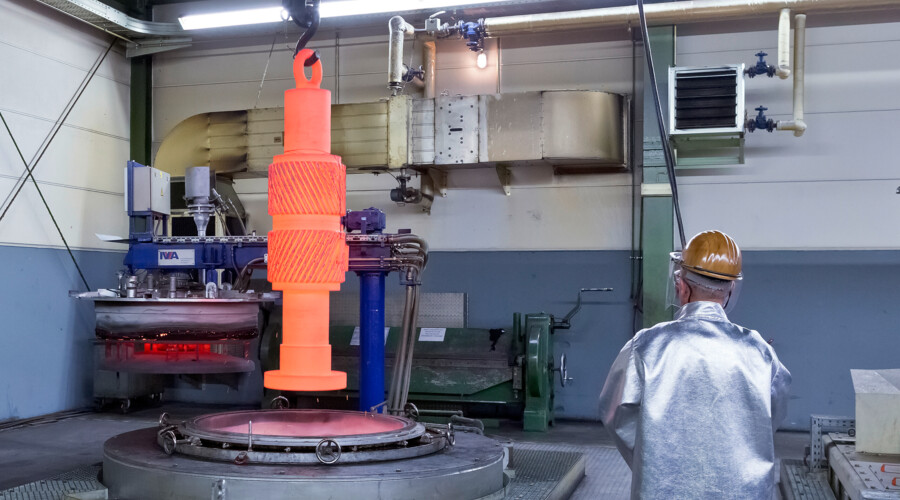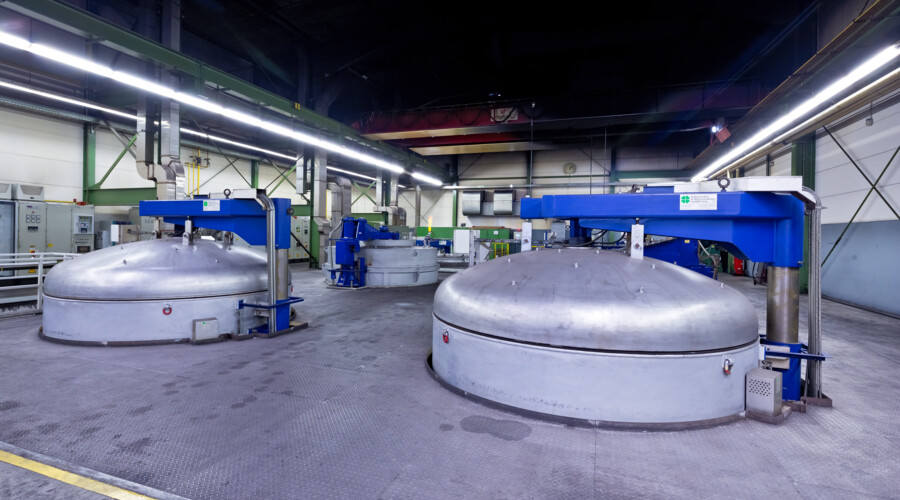 More than a century of heat treatment know-how
For more than 100 years, we have built up a great deal of expertise in the field of heat treatment of gear parts as well as parts from mechanical and plant engineering. Our hardening shop, covering an area of around 2,500 m², operates a total of 25 heat treatment plants in the form of shaft and chamber furnaces, five oil baths with a total capacity of more than 150,000 liters of oil, six cleaning plants as well as four blasting plants and three straightening presses with press pressures up to 600 tons.
02 Mechanical Manufacturing
CNC Turning, drilling and milling for large components
With our extensive machine park we can handle large diameters and steel components of a weight up to 20 tons and beyond. A speciality of RENK is undoubtedly high quality gear manufacturing, shafts and couplings. In addition, we produce a wide range of parts, starting with batch sizes as small as 1.
Whether steel to aluminum – our facilities can manage various jobs for our customers:
Turning
Milling & drilling
Grinding & other surface treatments
Bending & balancing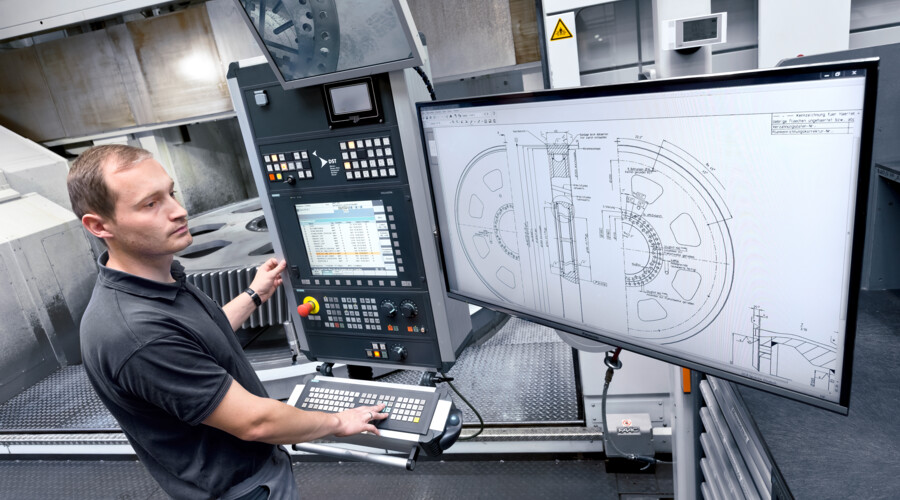 03 Gear Production
Decades of expertise in large scale and heavy duty gear manufacturing
We can support customers with the design, simulation and naturally the production of various gear components. Our vast CNC machines can handle medium to large diameters and various technology are ready at your service.
Get in contact with our experts to discuss your demands.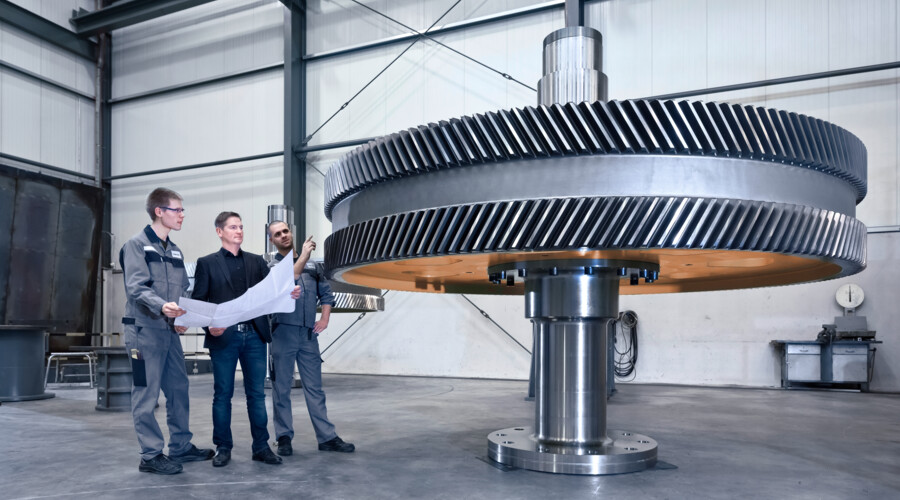 04 metrology Services
Measuring large scale components from tactile to optical technologies
Our laboratory for the examination and documentation of material samples by means of tensile and notched bar impact testing as well as CHD and NHT measurements creates and evaluates micrographs.
We have one of the largest cordinate measurement machines (CMM) in Europe and naturally various other tactile and optical metrology systems. Measuring even large scale components with highest accuracy is a vital competence of RENK.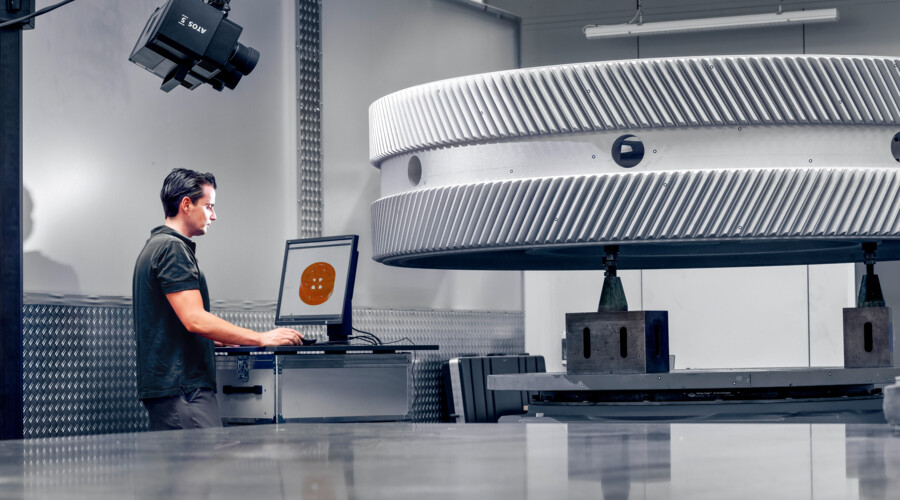 Our experts utilize all technologies for surface measurement and material inspection and are specialized in handling large scale and big diameter parts.
Naturally everything with a professional documentation.
05 Validation on our test benches
Four test beds can be utilized for your gear boxes and power transmissions.
In Augsburg we have one of Europes biggest and most modern test facilities for large scale gear units and power transmission. Our 4 test beds are installed on an area of 1.250 m² and can handle enormous workloads and most challenging test cases.
With the broad range of equipment torques of 500.000Nm and maximum speeds of up to 20.000 rpm with a load of up to 12MW can be applied to the tested systems.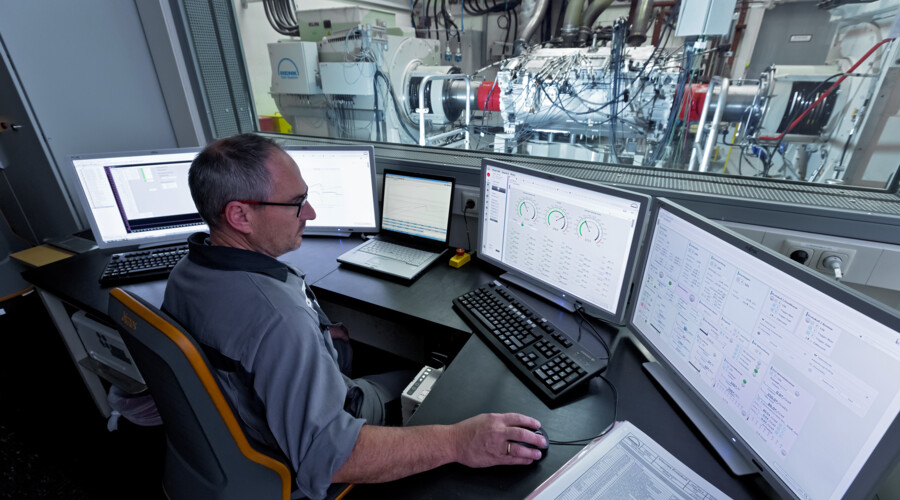 Highest flexibility to be adapted to your needs
Our test facility is adapted to the specific needs of your demands. Whether complete drive and propulsion systems to components as motors, brakes, compressors, gears – whether for marine, automotive or any industrial sector.
The multi-functional test beds is perfectly suited for testing prototypes and pre-production assemblies.
With the RENK system, we have a total of ten motors that also work as (bidirectional) generators. These can be arranged in various constellations. For example, two 6 MW drives can be combined to form a twelve MW power package, with two further motors acting as brake generators. With such an arrangement, high numbers of load changes are possible without extensive setup preparations.
By using adapting transformers, different voltage levels from 690V (4 MVA) to 11 kV (8 MVA) can be provided for the systems or components on the test benches. These can be used when testing complete propulsion systems. With the help of a motor-generator set, these voltage levels can also be used with frequencies between 5 and 80 Hz.
Our crane capacity of 200 t ensures that assembly and disassembly work can be carried out efficiently from start to finish.
In good hands
150 years of experience at your service
For decades, RENK has been a leading global manufacturer of large couplings, bearings, wheels, shafts and gears with a high degree of added value. With our extensive machine tool park, we manufacture individual parts through to assemblies with maximum precision and reliability as well as outstanding quality. In addition, we produce a wide range of parts starting from batch size 1, which requires a lot of experience in planning and machining with an accuracy of a few micrometers. That's our day-to-day business.
Certified by highest standards
We are a multiple ISO certified company. A MSA (Manufacturing Survey Agreement) with DNV is implemented. Due to our products and market segments, classification societies accompany us on behalf of end customers in manufacturing and production (e.g. ABS, BV, GTB, DNV, GL, LR, RINA, etc.).
You can see our various certification at our Quality Management page.
Contact
Interested in our contract manufacturing services?
We would be happy to support you with our experience and competence. Contact our experts and send us your questions and requests.
Contract Manufacturing
Email