History
150 years full of stories, innovations, and passion.
1873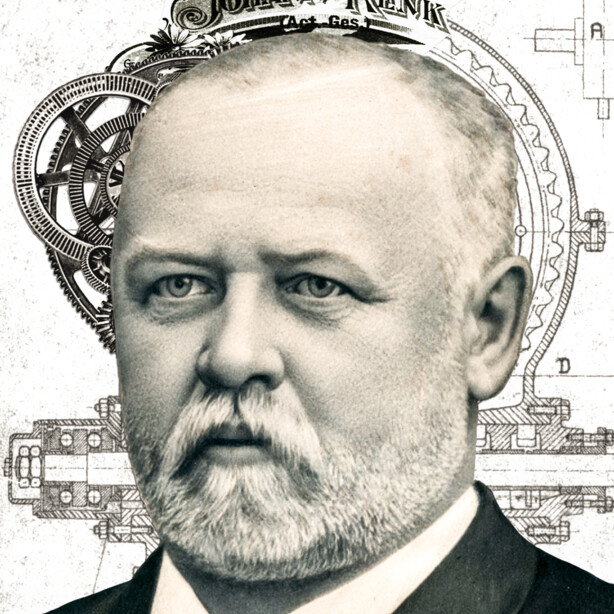 A pioneer of the industrial age founds RENK.
Our founder started RENK in a garage in Augsburg. Thanks to his passion and innovations the garage was not sufficient anymore and the first factory was needed.
1897
Key turning point
The "Zahnräderfabrik Augsburg" joint-stock company for the production of gear wheels is founded.
1916
Quantum leap
RENK constructs a gear cutting machine with a processing diameter of seven meters.
1929
Breakthrough
500 precision automotive gear units each month.
1934
Milestone
The first reversing gear units for marine applications are built.
1939
Record
RENK builds the fastest gear box in the world.
1943
New invention
RENK causes a paradigm shift in the transfer of power and energy for tanks to the principle of hydrostatic superimposition steering.
1956
Global innovation
RENK produces the first turbine gear box with the highest pitch circle velocity (185 m/s).
1961
Shifting gears
RENK builds the first vehicle transmission dynamometers for tanks with automatic transmission.
1965
Pure innovation
RENK invents the hydrostatic-hydromechanical steering drive for tracked vehicles.
1971
All inclusive
RENK designs the first integrated braking system with friction brakes.
1973
Maximum control
Development of the RENK checker - an electronic device for monitoring gear boxes.
1975
Even more dynamic
Acquisition of the slide bearing and coupling product areas of Eisenwerke Wülfel in Hanover.
1976
Global pioneer
RENK becomes the world's first company in the field of drive technology to harden and grind gear wheels measuring over 3,000 mm in diameter.
1982
Gigantic
RENK manufactures one of the largest marine gear boxes for ice going ships with a diesel motor drive. Power: 40,000 kW.
1984
Trailblazing technology
Based on the company's expertise in the development of electronic control devices for automatic transmissions, the RDDS (RENK dynamic data system) was created for controlling a drive shaft dynamometer, and is still used in the area of development in Formula 1 motorsports today. The RDDS has been continually enhanced since this time.
1986
New venture
The product areas of industrial and marine gear boxes are spun off into RENK-TACKE GmbH.
1987
The RENK AG
The company's name is changed to RENK Aktiengesellschaft – including the product areas of automatic vehicle transmission, drive elements, and test systems.
1989
In a class of its own
RENK produces a turbo gear box with the highest power rating ever transmitted by gears in mesh: 75,000 kW.
1992
Vice Versa
RENK builds a planetary gear box for a marine propulsion system with counter-rotating propellers – with an unbelievable performance potential of 20,600kW.
1994
Full turbo
First type of the world's most powerful gear box with a gas turbine output of 90 MW.
1995
Merger
RENK-TACKE GmbH is fully incorporated into RENK AG.
1996
Maximum boost
The output of a turbo gear box increases to 100 MW gas turbine output for the first time.
1999
Big debut
Delivery of a bevel planetary gear unit weighing 110 metric tons, designed for an output of 5,400 kW. The gear unit is used in the world's largest and most powerful roller mill at a cement works in Argentina.
2000
New dimension
RENK presents the newly developed etaX® gear box for a higher degree of efficiency.
2001
Major feat
The first CODAG system in the world for the main propulsion system of a frigate with a total output of 38 MW.
2002
Above and beyond
The first RENK AEROGEAR gear box is installed in the AREVA 5-MW system at the Alpha Ventus Offshore Wind Farm in the North Sea.
2004
Premiere
First type of the high-capacity marine propulsion gears for COGAG arrangement with the lowest specific weight in the world and a total output of 6,300 kW.
2007
Strategically important alliance in 2007.
The founding of RENK-MAAG GmbH in Winterthur, Switzerland, and thus the takeover of MAAG's successful turbo series as well as the global service for the turbo and marine gear units.
2010
Pinnacle of development.
Production of a multiple power splitting gear box with a multiflow for an output torque of 15 million Nm – which is approximately three times greater than any previous torques.
2011
Highlight of 2011
The approval of the first system in the world built for the hybrid propulsion of a frigate, CODELAG, with an output of 30,000 kW.
2012
Gateway to Asia
RENK opens a central base, RENK Shanghai Service and Commercial Ltd. Co., in 2012.
2013
Gigantic
The world's largest planetary gear box for a wind power nacelle test rig is built in 2013 – with a torque of 15,000 kNm.
2015
Three records
in one year.
COPE, the most powerful cement mill gear boxes thus far with an eight-motor drive and an output of 10 MW.
The world's largest spur gear box (290 metric tons) for the propulsion of the cutting head of a head suction dredger with a torque of 2.5 million nM…
First AED electric drive module for extremely low-noise marine propulsion systems.
2016
A superlative scale
The world's largest test stand for gear boxes up to this point is built in 2016.
2019
Extending the mobility solution package.
RENK buys the Horstman Group, a leader in suspension system for military vehicles. With this move, RENK is strengthening the position of being a holistic mobility solution provider.
2021
Stronger in the Americas
RENK acquires from L3Harris the Technologies Combat Propulsion Systems, an established mobility solution provider.
2023
150 years - a success story continues.
In 1873, Johann Julius Renk founded our company in a garage in Augsburg. An incredible and successful journey of 150 years. Made possible by passionate, innovative and incredible employees, customers and partners. Something we will celebrate for sure and a reason to innovate our logo and branding.