Standing twice as tall the famous cathedral of Cologne, rotor blades gaping wide enough apart to leave space for an entire soccer pitch: the latest-generation wind turbines are giants of engineering science. Nowadays, these giants can generate more than 20 megawatts of power, twice the figure achievable a mere ten years ago. These are ratings high enough to cover the annual demand of up to 15,000 households. Wind turbines are a way forward for the energy supply of tomorrow, but each one represents a hefty capital investment. Depending on size and location, costs can run between EUR 2.5 million and EUR 4 million per megawatt of installed generating power. So not surprisingly, stakeholders have a vested interest in systems that will remain constantly in perfect trim. Gear units, generators and rotors have to pass a regime of rigorous testing before being put into service at a high-yield location such as a North Sea offshore wind farm.
RENK Test System GmbH (RTS) is one of only a handful of providers with the ability to design and build the test beds required for this purpose. "When others have about reached their limits, we step in", states Mathias Karrer, Managing Director at RENK Test System GmbH. The 150-some specialists from Augsburg are not in the business of delivering off the shelf: every single test bed is unique, designed and built specifically for the ordering client. Some of the test beds are giants in their own right, housed inside purpose-built structures that can have foundations 8 meters deep and stretch a huge 40 meters end to end. The RENK subsidiary also undertakes planning for these huge buildings and maintains a full controlling interest throughout their construction. Mr Karrer underscores the turnkey concept of RTS in these words: "We're talking consultation, development and complete construction of the facility from a single source."
"We are involved right from the beginning, so we can bring our experience to bear early on", avers Andreas Schilp, who as Director of Sales at RTS heads the team that is also responsible for project planning of the test-bed facilities." On many of these projects we're pushing the boundaries of engineering", explains Mr Schilp. One aspect of testing is to establish that gear unit and bearings are going to function as they should. After a wind turbine has been erected in the middle of the North Sea, repairs would be anything but easy. Another issue to be verified is how the turbine reacts to fluctuations in the power grid. The process known as grid emulation can map all sorts of fault conditions. The test data also feed into preparations for type certification in accordance with the individual grid codes of various countries. "In this respect the RENK Group grants us enormous depth of value addition with technically critical parts", observes Mathias Karrer in relation to that wealth of in-house expertise the company taps into for designing and building these high-end test beds.
New technologies also mean that the test facility itself first has to be developed from the ground up, then designed and constructed. Depending on complexity, it can be up to three years before it is ready for the first tests to be run. The timespan itself is indicative of how close and trusting the relationship between client and system partner RENK needs to be on a project of this nature. The main plant in Augsburg, Germany, is where each test bed is pre-assembled and its functionality tested. Final assembly follows after the equipment has been transported to site. The next phase is a barrage of tests and resultant optimizations. "Each of these test beds is a unique prototype", explains Andreas Schilp. This is what makes plant engineering in this form so special and it's also the reason why so very few companies are in a position to take on the challenge.
In the case of wind turbines, the engineers run tests to establish for example that gear unit, generator and bearings are able to withstand the enormous forces involved. Everything is super-size. A single rolling bearing, say, can measure a huge six meters in diameter. Everything has to be machined to perfection and everything must harmonize. "The quality and the associated strengths are added value that RTS offers its clients. They in turn are able to pass this on to their customers, and this constitutes a tremendous competitive advantage", stresses Karrer.
The quality and the associated strengths are added value that RTS offers its clients. They in turn are able to pass this on to their customers, and this constitutes a tremendous competitive advantage.
Back in the 1960s, RENK was already developing and building sophisticated test beds to test its own gear units. Car manufacturer BMW was the first outside customer - that was back in 1984. Word soon spread that Augsburg was the place to find the specialists who could handle the challenges of high-end testing. As time went on more and more orders came from all sorts of industries, and the clients all appreciated the reliability of testing technology from RENK. Solid growth ultimately led to the establishment of RENK Test System GmbH as the independent Group member for test-bed development - next year the company will celebrate 20 years in business.
RENK test beds are also very much in demand in the aerospace industry. In this sector they are used for example to verify the functional and load-bearing capabilities of helicopter gearboxes. Other companies use RTS facilities to deep-test their turbines. Railroad manufacturers, suppliers and operators also rely on test beds from Augsburg. It is typical of RTS that the company stepped up to the mark to deliver brake testing for high-speed trains. When the engineers at brake manufacturer Knorr-Bremse were looking to develop brake systems for high-speed trains then in the pipeline, they found themselves in need of a test bed that didn't yet exist in the form they required. RTS went ahead and built the first test facility able to do the job. It has since become the standard in development of high-speed train brakes for clients all over the world. But brakes are not the only railroad components tested. "The Machine", as the railway world refers to the rig in profound recognition of its abilities, simulates operations on an endless railroad track and can test rail-car wheel tires and axles under real-life loading conditions. The test data tell the experts a great deal about wear, noise development and possible safe load limits.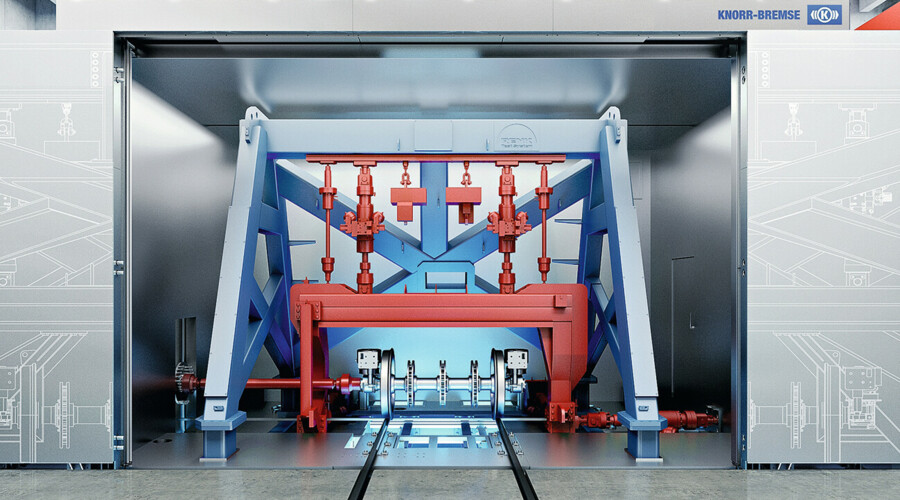 Fully assembled machines are not the only products tested on facilities designed and manufactured by RENK. They are often the diamond-hard standard for proofing the calculations and ideas that emerge from development departments across industry. At its plant in Sindelfingen, Germany, right now, Mercedes-Benz is running two RTS test beds to establish precisely which noises the e-powered S class will generate in operation and pinpoint the sources responsible for these acoustic emissions. Test beds are where the developers of large-scale systems and facilities first find out whether the designs they cook up in simulated space are indeed going to furnish the hoped-for results when the move is made to the real environment.
In its development of these highly specialized facilities, RENK has always been guided by the principle of sustainability. Whenever a client considers acquiring a test bed, the procurement costs alone are not the only factor to be taken into consideration alongside sheer functionality. It is not uncommon for test beds from RENK to remain in service for upward of 30 years. So life cycle costs (LCC) are critical. Vital in this respect is the modularity of the software, allowing for adaptation to new test series and conditions. This ensures that the client will be able to use the facility for products that will not be in the pipeline until well into the future. So the test beds themselves are designed for a long working life and reliability is of the essence. The conservation of resources and maximized energy recovery in production and throughout operation are also important factors.
Energy generation, mobility and mechanical engineering in general. The demand for test facilities is increasing rapidly everywhere. "So our growth path as trusted partner for our clients in this business sector is mapped out clearly ahead of us", asserts Karrer. Transformation in many sectors of industry calls for new technologies and methods, which will have to be first developed and then tested. "RTS is right at the cutting edge. That also makes us all the more attractive for ambitious technicians and engineers keen to work with us on crafting a sustainable world."
Get in touch with our experts to discuss your questions and demands regarding special test rigs.
RENK Test System GmbH
Phone number
Email